I'm not the biggest fan of pumpkin pie… but that's a little bit of a lie. I had a slice tonight at my good friend Shannon's house and I did like it! So, I don't know why I thought I didn't like it. I suppose it's because I'm not a squashy person 😛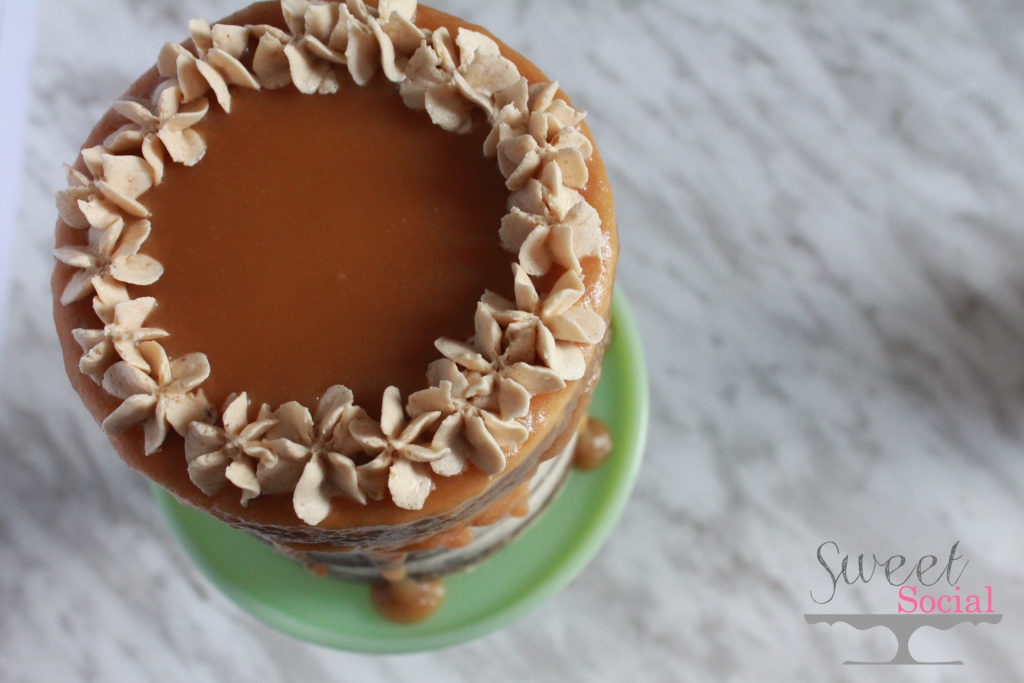 I know my family is not a fan of pumpkin, so I thought I'd disguise this year's dessert with chocolate cake. I thought I was being tricky, but some were not easily fooled. Sigh, my picky family. Regardless, this is still one of my favourite seasonal cakes. About 10 years ago, I found this recipe in Country Living magazine. I'd long since lost that original recipe, but always had a variation of it in my recipe stash. And since I felt the need to produce something festive, I decided to whip up this cake.
Yes, it has a billion ingredients (really only a dozen), but it's so worth it. The cake is always super soft and flavourful. I do suggest prepping it all so that you don't forget anything.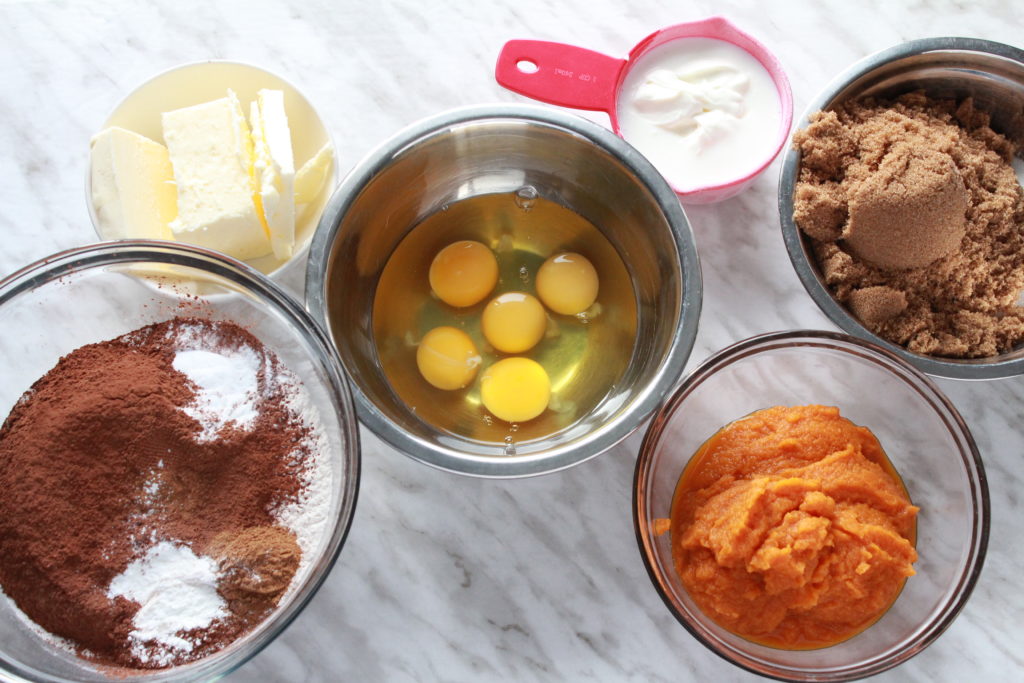 The results of your careful prep will yield a cake that is fluffy and perfect…just like all chocolate cakes should be. However, I do believe the added pumpkin puree adds moisture to this cake keeping it nice and soft.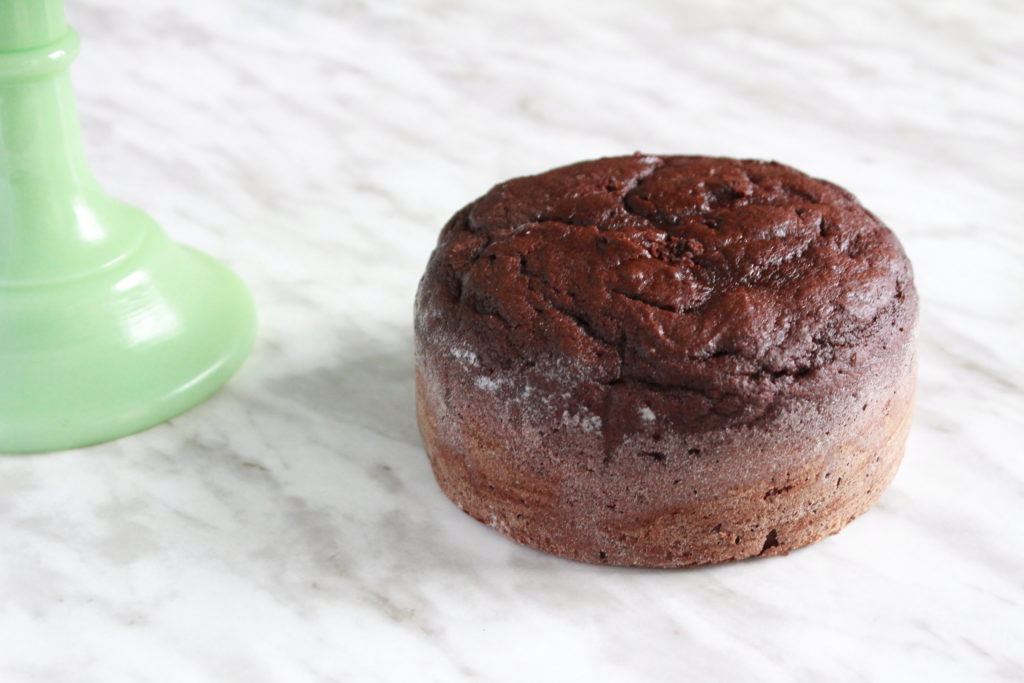 I filled this cake with a caramel buttercream. You could easily do up a cream cheese icing for this cake, but I was going to pour caramel all over this bad boy, so didn't want it to be any richer than I was about to make it!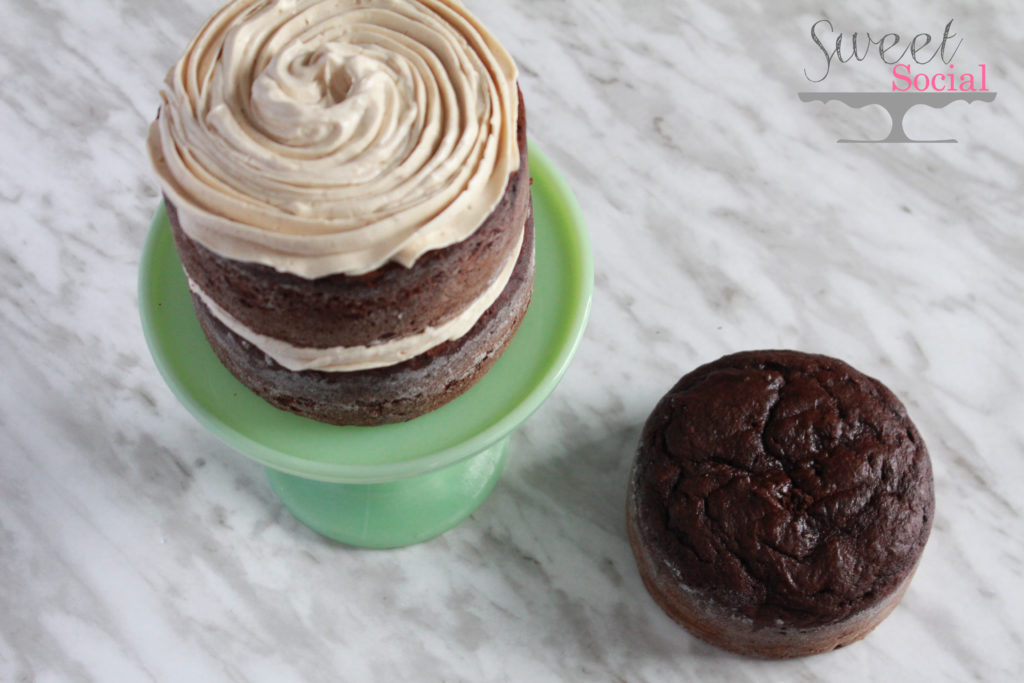 Don't you worry my friends. More on homemade caramel coming this week!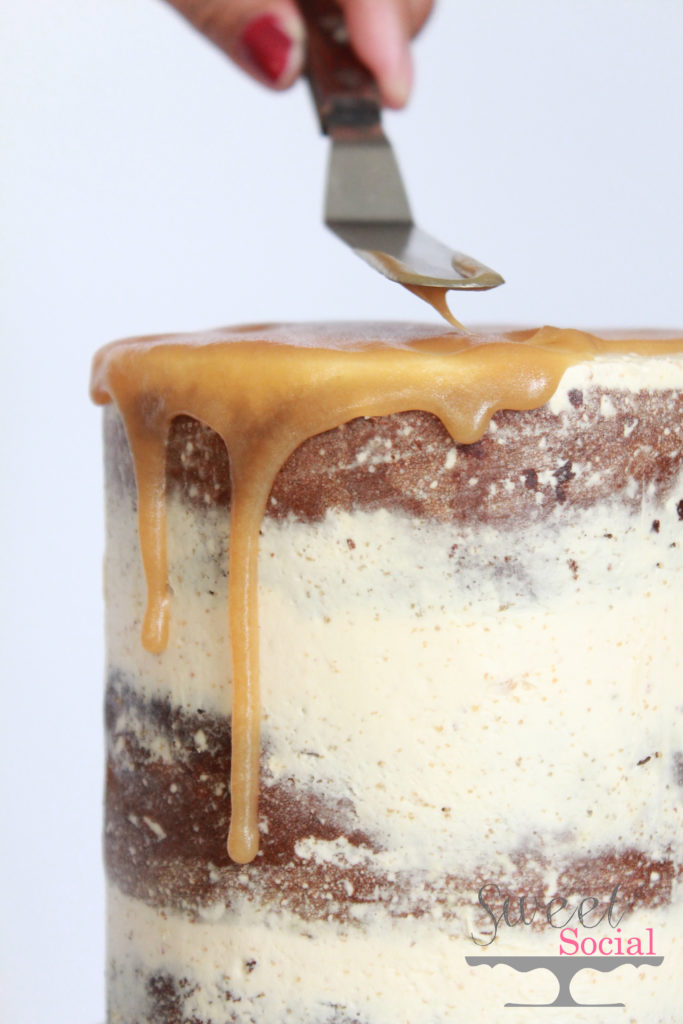 Because the batter made sooooo many mini cupcakes, I split the cupcakes up between friends, co-workers, family and still had way too many left over! I might have considered halving this recipe, but it's Thanksgiving here in Canada…I show my gratitude by baking for everyone I know.  😉
This recipe made me 3 layers of 5″ round cakes plus 5 dozen minis!!! This cake would make excellent Halloween cupcakes or even a 3D pumpkin shaped cake! What's your favourite Thanksgiving or Halloween treat?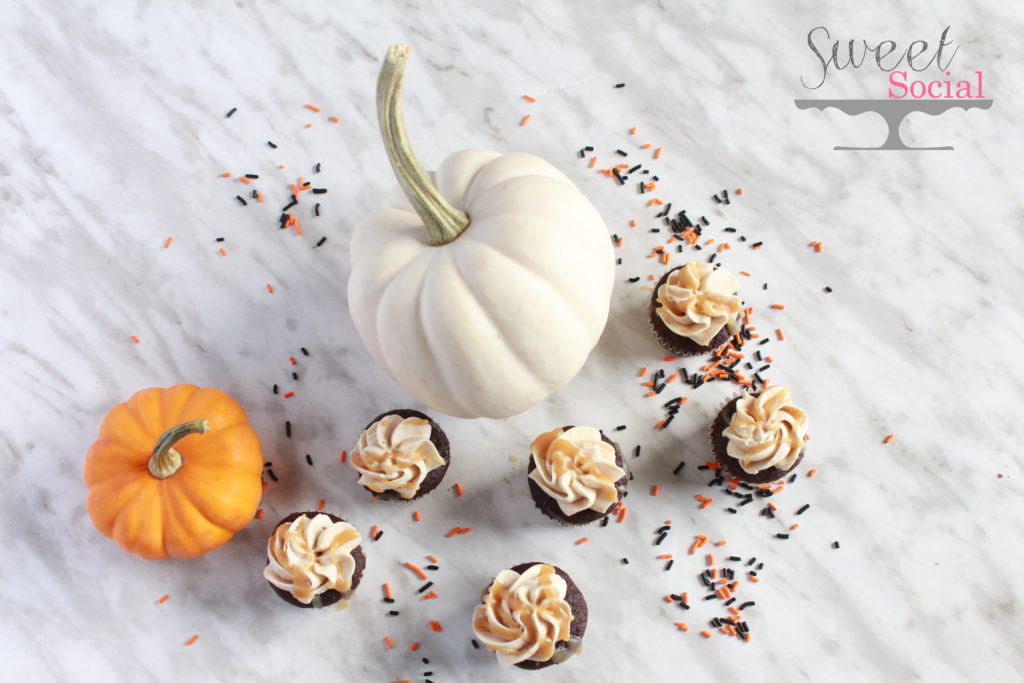 *This recipe has been adapted from the original found in Country Living Magazine (2007).
Print
Chocolate Pumpkin Cake
Ingredients
2 1/2 cups all-purpose flour
1 cup cocoa powder
1 Tbsp baking powder
1 1/2 tsp baking soda
1 Tbsp Pumpkin pie spice
1/2 cup milk (whatever you have on hand)
1/4 cup sour cream
1 1/4 cup pumpkin purée
1 1/4 cup unsalted butter, softened
1½ cup dark brown sugar
1½ cup granulated sugar
5 large eggs
2 tsp vanilla extract
Instructions
Prepare the cake pans with shortening and dust with flour, line cupcake tins. Preheat oven to 350 degF.
Sift together the flour, baking powder, baking soda and cinnamon spice then set aside.
Mix together the milk, sour cream, and pumpkin puree and set aside.
In the bowl of the stand mixer, cream together the softened butter and both sugars. Mix on medium speed for about 4 minutes until fluffy. Add the eggs one at a time and mix until fully combined then add in vanilla. Scrape the bottom of the bowl to make sure it is all evenly mixed.
Alternately add in the flour mixture in 3 parts and milk/puree mixture in 2 parts, ending with the flour mixture. Start with 1/3 of the flour and mix for 30 seconds. Pour in 1/2 of the milk and puree mixture and mix for 1 minute. Continue pattern until all the ingredients are combined.
Fill the prepared 5" cake pans and fill the min cupcake tins. Minis will bake for 12 minutes; cakes will bake for approximately 30 minutes depending on how full you filled the pans.
/chocolate-pumpkin-cake/
Happy Canadian Thanksgiving, y'all!